Simply move full supermarket shelves, gondola shelves and merchandise displays.
Shop rearrangement made easy. Move fully stocked gondola/supermarket shelves, product displays and other shelf systems in no time at all.
Emptying and re-stocking shelves costs time and ties up staff. Costs incur that can easily be avoided. With the ENGOLIT EngoRoller, store rearrangement can be achieved with very little effort.
---
Application examples:
Not only repositioning fruit and vegetable shelves, but also moving bargain tables and product displays in the discount market can be carried out in little or no time. In DIY stores, you can also move a wide variety of shelving systems e.g. typical gondola shelving such as storage shelves, perforated wall systems and flower shelves to a new location without first having to clear them out. The EngoRoller is also ideal for moving fully stocked refrigerated cabinets in the catering trade.
With the EngoRoller, you gain time for shop rearrangement, cleaning or renewing-flooring as quickly as possible. The EngoRoller is the perfect tool so that customers can shop in your shop with little to no disturbance.
---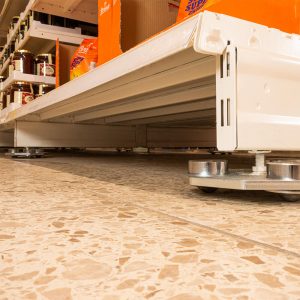 Time & personnel saved:
Shelves no longer have to be cleared out. You can move them fully stocked.
Two to four persons are sufficient to reposition e.g. a 10 m gondola rack
---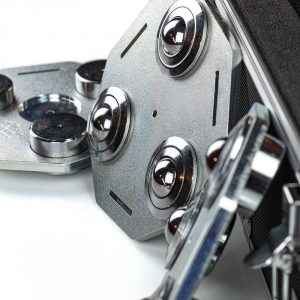 Quality "Made in Germany":
The EngoRoller is manufactured in Germany from high-quality steel and has a weight of approx. 2 kg.
Per EngoRoller a maximum load of up to 750 kg is possible
The steel ball bearings can be rotated 360° in situ, thus large and heavy shelves can be steered very simply.
Maintenance requirements are minimal: Wipe the ball bearings after each use with a dry cloth and apply a few drops of lubricating oil.
The shelf lifter, which is fabricated from heavy gauge steel, is available as an optional accessory. It minimizes the effort required to raise the shelf and subsequently slide the EngoRoller under the adjustable feet. The plastic tile protector prevents unsightly damage to the adjacent flooring.